Alright. I heard the hype about 5 Guys. The place looked pretty damn good. So i decided to give it a try. I ended up getting just the Cheeseburger. The fries looked like some damn blonde dreads, so i passed. Looked straight disgusting. So i get to it. I open the wrapper and i see this..
If this was Burger King or McDonalds, i would STILL be like wtf is this shit? Soggy bun, cheese looks like a monkey put it on, and the burger looks like some vegetarian communist shit. I gotta try this though. For science. Take a bite. It has no flavor. Take a few more bites and instantly it feels like this in my stomach.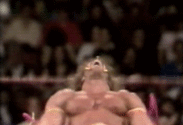 Instant doodoos. My boy was with me, and he heard my stomach making some dubstep like sounds. The night was a long one to say the least. Look, i know the place is new, and all that. The hype is extreme on this spot. But how hard is it to make a good burger? I made a bomb ass one the other day. But thats another story.
Fuck 5 guys. Place is the shits. I give this mother fucker here: